Royal Academy Opera: L'incoronazione di Poppea
Saturday, 21.05.2016 19:00, Shoreditch Town Hall
Shoreditch Town Hall, 380 Old Street, London EC1V 9LT
Jane Glover conductor
John Ramster director
Louis Carver set designer
Michelle Bradbury costume designer
Jake Wiltshire lighting designer
Nika Goric Fortuna/ Pallade
Katie Stevenson Virtù/ Venere
Alys Roberts Amor/ Damigella
Patrick Terry Ottone
Mikhail Shepelenko Soldato 1/ Famigliaro 2
Alex Otterburn Soldato 2/ Mercurio
Emma Stannard Poppea
Eve Daniell Nerone
Helen Brackenbury Arnalta
Claire Barnett-Jones Ottavia
Timothy Murphy Seneca
Laura Zigmantaite Valetto
Lorena Paz Nieto Drusilla
Dominic Bowe Liberto/ Littore/ Famigliaro 3
William Blake Lucano
Tristram Cooke Famigliaro 1
Royal Academy Opera continues 'on the road' during the construction of the Academy's new theatre.
Love triumphs over Virtue in Monteverdi's compelling masterpiece of obsession, excess and scandal. The infamous Emperor Nero sweeps aside all opposition to his marriage to the ambitious Poppea Sabina, culminating in one of the most erotically charged duets in all opera. The timeless combination of shocking moral ambivalence and seductively beautiful music has kept L'incoronazione di Poppea, written for the Venice Carnival in 1643, at the centre of the modern operatic canon.
The production will be sung in Italian with English surtitles, and accompanied by period instruments from the Academy's Historical Performance department. It will be directed by Resident Producer John Ramster and conducted by Jane Glover in her final production as the Academy's Director of Opera.
Tickets £20 (concessions £15) from Shoreditch Town Hall: www.shoreditchtownhall.com, telephone 020 7739 6176; restricted view seats in the balcony £5 off; all orders subject to a booking fee of £2.50
Photo by Eli Sumthing
What's On
Follow us on Twitter@RoyalAcadMusic
@RoyalAcadMusic #RAOPoppea
@RoyalAcadMusic • Sep 19

Exciting #RAOPoppea set model showing with #opera director Olivia Fuchs. Book now bit.ly/RAOalcina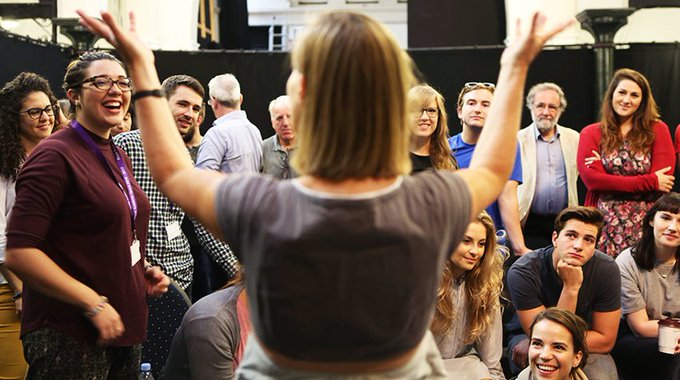 @RoyalAcadMusic • May 23

'Bravi, team!' – @Schmopera reviews #RAOPoppea bit.ly/1TRpatm