Junior Academy
Junior Academy offers a unique opportunity to talented and committed young musicians from all backgrounds who want to be inspired and challenged in their music-making.
As a student of Junior Academy, you will find yourself amongst others who share your love of music and for whom Saturday is the most important day of the week.
The Junior Academy application deadline for 2017 has now passed. We may be able to consider a late application subject to availability once the audition schedule has been confirmed. If you would like to be considered as a late applicant, please contact the Junior Academy office on juniors@ram.ac.uk
Online application for Primary Academy.
Director, Junior Academy: Howard Ionascu
Read Howard's blog
Director, Primary Academy: Krystyna Budzynska GRSM, LRAM, FRAM
Administrator, Junior Academy:
Karen Ingram BA (Hons), Hon ARAM
Operations Manager, Junior Academy:
Jenny Johns MA (Cantab)
Direct telephone: 020 7873 7380
Email: juniors@ram.ac.uk
#JuniorAcademy@RoyalAcadMusic
@RoyalAcadMusic • 3月 30

Inspiring video of #JuniorAcademy @ShekuKM working with @LDNmusicmasters. 'Children need encouragement': bit.ly/2obDM2o #strings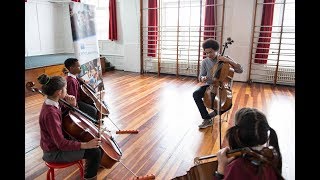 Next Event
13.05.2017 15:45, Duke's Hall
Junior Academy students perform works by Junior Academy composers