Timpani and Percussion
The Academy's Timpani and Percussion Department, led by Neil Percy, has a worldwide reputation for excellent provision for students and for professional training in the complex and versatile world of percussion playing.

Our aim is to provide students with a variety of related instrument study. Employability is essential to the ethos of the Timpani and Percussion Department; our graduates have full, rewarding and varied careers after attaining the skills necessary for continuing musical and professional development.

The Academy offers Principal Study for both undergraduate and postgraduate percussionists.
Timpani and Percussion: Your Experience
Timpani and Percussion Open Day: Please contact us to discuss making an individual appointment
Murray Richmond, Department Administrator
Telephone 020 7873 7320 / email percussion@ram.ac.uk
Timpanist and percussionist with the London Symphony Orchestra

Works with composers, film composers, pop and jazz artists

Gives masterclasses and coaches at conservatoires and percussion events in the UK, Europe, USA and Asia
Latest News
02.10.2017
The Royal Academy of Music has unveiled a new specially-commissioned bust of the English composer Gerald Finzi as well as a significant new scholarship in the composer's name
Latest Blog
01.12.2016
Advice for everyone auditioning for studies in 2017
Upcoming Events
Friday, 24.11.2017 19:00, David Josefowitz Recital Hall
The Academy's Timpani and Percussion and Jazz departments join forces for this concert of Cuban and Brazilian music.
Saturday, 02.12.2017 15:45, Duke's Hall
Richard Dickins conducts the Junior Academy Symphony Orchestra
Timpani and Percussion
follow us on twitter@RoyalAcadMusic
@RoyalAcadMusic #percussion
@RoyalAcadMusic • May 17

New to our YouTube channel: professor @colincurrieperc performs @SteveReich with students: bit.ly/2pKyVXr #percussion #mallets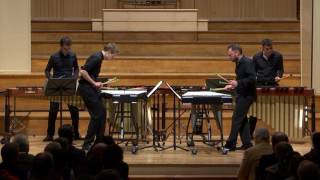 @RoyalAcadMusic • May 12

New to our YouTube – #percussion professor @colincurrieperc and students perform @SteveReich's Mallet Quartet: youtu.be/M7IS9WkY5X4