Historical Performance
Many of the most outstanding performers in the current generation of historical performance specialists studied at the Academy.
Studying in the Historical Performance department will enable you to further your individual musicianship, instrumental technique, knowledge of historical performance practice and artistic creativity. You will be encouraged to develop a range of skills that will equip you to enter the vibrant world of historical performance, and to be one of the new game-changers in your chosen field.
You will work with world-class professors to study a wide range of repertoire (recorder players will also explore contemporary repertoire and techniques, often working with young composers). Other core activities include dancing, playing continuo and taking part in education projects. You will also be encouraged to develop your own projects in an atmosphere that is particularly friendly and collaborative across all years of study.
Performance opportunities range across Bach Cantatas, opera, orchestral projects (including a Haydn symphony series), chamber music, consort playing, and many external concerts. These extensive activities are all designed to provide you with invaluable experience as a professional musician.
Scholarship assistance is available to the best candidates following audition, which may extend to half-fees or full-fees awards for the exceptionally gifted.
The Academy offers Principal Study in the following period instruments:
Violin | Viola | Viola da Gamba | Cello | Double Bass | Harpsichord | Fortepiano | Lute/Theorbo | Recorder | Flute | Oboe | Clarinet | Bassoon | Sackbut
Academy students studying in other departments are encouraged to take up Historical Performance as a second study and are always welcome to perform in small and large-scale projects within the Historical Performance Faculty.
Historical Performance: Your Experience
Contact
Emily Mould, Historical Performance Administrator
Telephone 020 7873 7379 / Email historical@ram.ac.uk
Co-leader of the Orchestra of the Age of Enlightenment

Director of training programmes for the OAE and European Union Baroque Orchestra

Experienced performer and recording artist

Head of Historical Performance since 2012
Latest News
14.11.2016
Academy alumni, students and staff pay tribute to a remarkable man
Latest Blog
01.12.2016
Advice for everyone auditioning for studies in 2017
Upcoming Events
Sunday, 05.03.2017 12:00, Duke's Hall
BWV 154, BWV 656, BWV 215
Friday, 10.03.2017 19:00, Duke's Hall
Academy Baroque Orchestra present a concert of Haydn
Thursday, 16.03.2017 17:00, Duke's Hall
The Nancy Nuttall Early Music Prize for historically informed performances of pre-1800 chamber music
Friday, 24.03.2017 19:30, Duke's Hall
Academy Baroque Ensemble performs side-by-side with the London Handel Players in a collaboration with choreographer Mary Collins and her dancing partner Steven Player
Sunday, 02.04.2017 12:00, Duke's Hall
BWV 103, BWV 135, BWV 104
Sunday, 07.05.2017 12:00, Duke's Hall
BWV 150, BWV 81, BWV 562, BWV 193
Sunday, 25.06.2017 12:00, Duke's Hall
Solo voices and the timbre of a solo oboe predominate in today's cantatas.
Sunday, 08.10.2017 12:00, Duke's Hall
Unusual texts are to the fore in this concert's cantatas. Leichtgessinte Flattergeiste ('Frivolous flibbertigibbets') takes the palm for the most charming and least likely opening line in the entire repertoire
Sunday, 05.11.2017 12:00, Duke's Hall
Brightness and darkness are juxtaposed in this concert, conducted by the Royal Academy of Music/Kohn Foundation Bach Prize winner Philippe Herreweghe
Sunday, 03.12.2017 12:00, Duke's Hall
The final concert of the season focuses on celebratory works for Christmas and Michaelmas
Historical Performance
follow us on twitter@RoyalAcadMusic
@RoyalAcadMusic #historical
@RoyalAcadMusic • Feb 15

Fascinating insights into #historical performance from @RachPodger at her masterclass today.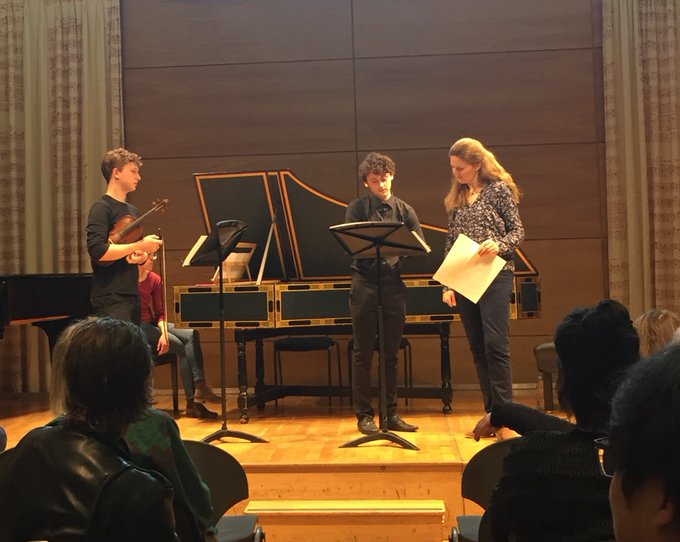 @RoyalAcadMusic • Nov 21

Laurence Cummings is back in the building, rehearsing Baroque Orchestra for Friday's concert. #historical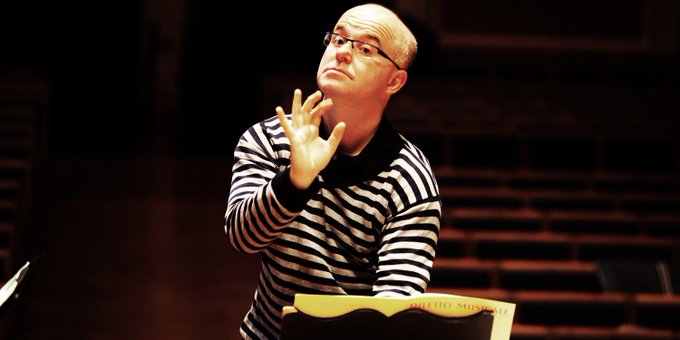 @RoyalAcadMusic • Nov 19

Watch: Head of #Historical Perf Margaret Faultless on asking questions to composers from centuries ago bit.ly/2g1Zazb